A trustworthy stethoscope is essential for doctors and nurse practitioners to monitor and diagnose their patients. Therefore, it's crucial to look for one with a premium chestpiece and lightweight, hypoallergenic materials for comfort. There are various well-built instruments that provide great acoustic performance and dependability, even though there isn't an ideal stethoscope for every profession.
Selecting the appropriate one can enable you to swiftly and effectively detect medical problems. The best stethoscope described in this article were chosen for their exceptional craftsmanship, specialisation, and sound performance, which makes them perfect for medical professionals such as doctors and nurse practitioners who work in a variety of patient situations.
Remember that every stethoscope has different advantages based on your speciality, from emergency care/cardiology tools to electronic stethoscope non-critical versions. You should carefully study each review in order to choose the best equipment for your specialisation and the medical/healthcare environment.
1) Littmann Master Stethoscope for Cardiology
A cutting-edge medical instrument especially created for the disciplines of critical care and cardiology is the Littmann Master Cardiology Stethoscope. The most distinguished stethoscope in the Littmann range of non-electronic instruments, this instrument has an outstanding acoustic performance rating of 10/10.
One of Littmann's handcrafted chestpieces with the highest level of acoustic response (apart from their electronic stethoscope) is the single-sided high-performance cardiology chestpiece, which is currently on the market.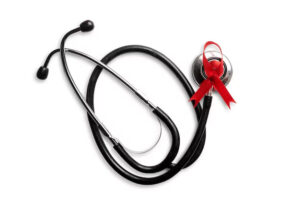 In order to swiftly identify heart, lung, liver, and blood pressure sounds, it is a useful tool for physicians, respiratory therapists, and nurse practitioners. Additionally, it has the ability to pick up very subtle bruits, gallops, murmurs, and clicks.
The user may easily monitor high and low frequencies with good acoustic auscultation and sound capture thanks to the tunable diaphragm's design, which enables frequency dilation. Users may easily distinguish different noises within the body because the chestpiece easily changes its frequency in response to a small pressure change.
Features of the Littmann Master Cardiology Stethoscope include:
Acoustic performance is rated 10/10 (among non-electronic stethoscopes).
Makes use of a single-sided, high-performance chestpiece for cardiology
A tunable diaphragm for observing high- and low-frequency ranges
Flexible special-procedure adaptor for a variety of patients
Next-generation technology with a dual-lumen tubing design to lessen noise interference
Perfect for paediatricians, doctors, and cardiologists/respiratory therapists
2) Stethoscope Littmann Cardiology IV
With its superb design and outstanding acoustic range and performance, the Littmann Cardiology IV Stethoscope distinguishes out as a standout instrument. It comes in second only to the Master Cardiology stethoscope among the other stethoscopes in the Littmann cardiology range.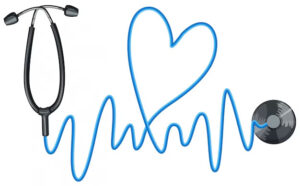 A bell/diaphragm combination over a single-sided device is preferred by healthcare professionals, and this device offers a dual-sided chestpiece to meet their needs.
The high-performance, newly designed stainless steel cardiology chestpiece that comes with the stethoscope base has a high/low-frequency adjustable diaphragm that may react to pressure changes to attain particular frequency levels.
A perfect tool for neonatal care or paediatrics, the open bell feature isolates fine sounds for exact heart, lung, and rhythmic auscultation.
With a chestpiece that is around 40% bigger (29mm) than the traditional III's (20mm) design, this stethoscope offers top-notch performance. In comparison to most other stethoscopes, it also has a bell that is 60% deeper than the traditional III, offering better sound capture and performance.
This stethoscope is an indispensable tool in critical care settings like the ICU, Cardiac ICU, ER, Med Surg Unit, or ED due to its exceptional capacity to identify difficult-to-observe noises including gallop murmurs, aortic stenosis, and pulmonary anomalies.
Overall, medical professionals may rely on the Cardiology IV stethoscope as a trustworthy and dependable tool to make exact and precise diagnoses.
Features of the Littmann Cardiology IV Stethoscope: 
High-performance stainless steel chest piece with adjustable high- and low-frequency diaphragm
An open bell separates fine sounds for precise auscultation of the heart, lungs, and rhythm.
For improved sound capture and performance, the bell is 40% larger and the chest piece is 60% deeper than the traditional III's design.
A bell sleeve attached to the diaphragm that is non-chill ensures the comfort of the patient while being examined.
Dual-lumen neck second-generation tubing to reduce noise interference and improve sound auscultation
3) Stethoscope Littmann Classic III
The top-of-the-line medical device that has captured the hearts of medical professionals and students alike is the Littmann Classic III Stethoscope. Because it is less expensive than cardiology stethoscopes, it is a popular choice for people wishing to spend less than $100.
 Doctors and nurse practitioners who need a dependable instrument for physical examinations and non-critical care positions will find this stethoscope to be especially useful.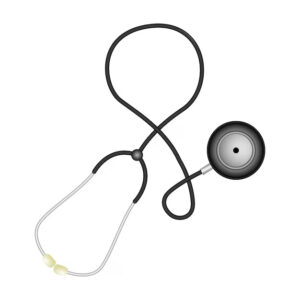 The Classic III has an exceptional 8/10 grade for its acoustic qualities when compared to the Cardiology IV. This indicates that it is quite good at monitoring both high and low frequencies, making it the best option in the majority of medical situations.
It may not be the best option for critical care scenarios like emergency care, ICU, ED, or cardiology, but it is ideal for routine use in other medical settings, such general care facilities and doctor's offices.
The stainless steel structure of the Littmann Classic III Stethoscope, which gives it a polished and professional appearance, is one of its distinguishing qualities. While checking a patient's vitals, the angular binaural and tunable dual-sided chestpiece offer a comfortable experience.
Features of the Littmann Classic III stethoscope:
Has a rating of 8/10 for acoustic performance and is very efficient in the majority of non-critical care settings.
For comfort and performance, angular binaural, tunable dual-sided chestpiece, and stainless steel construction.
The diaphragm may be adjusted for certain noises and is pressure-sensitive.
The paediatric side can be displayed to listen to the noises of infants and young children.
More durable single-lumen tubing improves sound auscultation
The soft, snap-tight ear tips from Littmann offer a snug, pleasant fit.
4) ADC Adscope 600 Stethoscope for Cardiology
Because of its great sound quality and wide acoustic range, the ADC Adscope 600 Cardiology Stethoscope is a wonderful instrument that stands out from the company's other products.
The single-sided chestpiece of the stethoscope, which is intended to efficiently reduce background noise and outside sounds, is its main feature. With a chestpiece specifically made for cardiologists, it is now feasible to hear even the most difficult sounds, which are otherwise unheard by non-critical care instruments.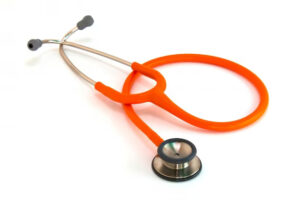 A light contact causes the chestpiece to function as a conventional bell, whereas a firmer touch causes the diaphragm to contract. Doctors and nurse practitioners can switch between high and low frequencies rapidly thanks to this architecture.
Additionally, the stethoscope's chestpiece and headset are constructed from premium stainless steel, guaranteeing that sound is captured precisely. The high-quality lumen tubing and silicone Adsoft Plus air tips of the ADC Adscope Cardiology Stethoscope make it a fantastic tool for reducing outside noises during examinations and diagnostics.
Features of the ADC Adscope 600 cardiology stethoscope:
The stethoscope is made of high-quality lumen tubing and stainless steel components.
A single-sided, contoured chest piece reduces background noise and outside noise.
By exerting varying amounts of pressure, the chest piece can function as a conventional bell or diaphragm.
Compact binaural that is angularly shaped to fit the ear canal.
27′′ long dual-lumen tubing guarantees the best level of comfort throughout evaluations.
Choosing the Best Stethoscope for Your Practise: A Guide
There are various important elements to take into account when purchasing a trustworthy stethoscope for medical professionals including doctors and nurse practitioners. This is due to the fact that stethoscope designs and functionality can differ greatly between different devices. In essence, depending on the patient's age group and medical state, stethoscopes are frequently adapted to specific specialties or patient kinds. Therefore, it's essential to choose a stethoscope style that best suits your requirements.